Here it is, everyone.
The moment you've all been waiting for.
The moment you find out if Baby K will be a he or a she.
Boy or a girl.
Pink or blue.
But first, to keep you on the edge of your seats, our reaction.
I know, the anticipation was killing me, too.
We got our cupcakes Saturday morning after 2 full hours of crazy Melissa cleaning.
They. Were. Adorable.
I didn't need them though. I already knew what we were having.
When we got home, we all showered and got ready for the day (Becca (who stayed the night before), Tyler, and I).
People started coming over at about 2. By 4 we were eating with
every single person we invited.
5:30 was the big moment.
Cupcakes were passed out and everyone was told to wait until Tyler and I looked at ours.
Tyler said "ready?!" and I was. I stuck my finger in my cupcake. (I wasn't going to bite it... I was too excited.)
I looked at Tyler, tears in my eyes and said "I WAS WROOOOOONG!"!
Oh my gosh.
Tyler broke his open and looked at me with his mouth wide open. Oh. My. Lanta.
IT WAS
PINK
!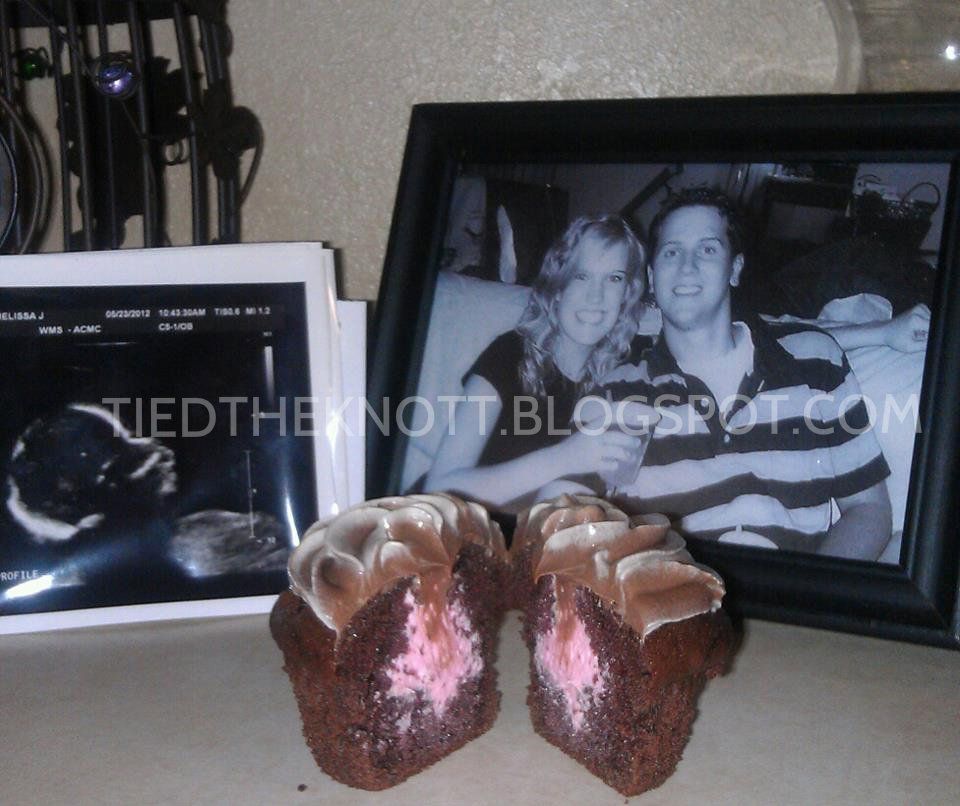 Yes, we are having a baby GIRL in October.
How unreal.
48% of you were right (I, was not. I was 100% sure we were having a boy).
I might have to have them double check on Wednesday at the next ultrasound. Prove it!
Time to start stocking up on ribbons and bows!
Holy Hannah, a baby girl.
My first thought when I saw it was:
Tyler told me exactly one week before that he wanted a girl.
I am going to go bask in the girly details that will soon be in my daughter's room. AGH! My DAUGHTER!
Happy Memorial Day, everyone.
Pictures to come tomorrow.
And the ultrasound says... ________________!!!!!
Holy cow!