Did you know that today is Friday the 13th?!
DUN
DUN
DUNNNNNNNNN!
Moving on...
I love cooking but today's recipe has no name. Maybe because I threw it together for a purpose.
My sob story goes like this (you get the short version):
I had my glucose test a few weeks ago and discovered I have slightly low iron. So I need more red meat and green veggies in my diet. I don't like meat... so this is a challenge.
I have heard that mixing red meat with a high vitamin C food (such as tomatoes) helps you absorb the iron more effectively, so I threw something together! We will call it spaghetti bake... or something.
Here is what you need:
2 large cans diced tomatoes, drained
1 can of petite diced tomatoes, drained
1 lb ground beef browned and drained
4 cups shredded mozzarella (separated into two equal parts)
1 can condensed tomato soup
1/2 cup grated Parmesan cheese
1 lb radiator pasta cooked and strained
1.5 tsp garlic powder or minced garlic
Mix all (except your second part of mozzarella) into a large bowl and divide into two 9x13" glass cooking ware (makes a lot of food... I will explain left overs). Top with remaining cheddar cheese, cover, and bake at 350* for 1.5 hours. Remove lid and bake for 10 more minutes.
ENJOY!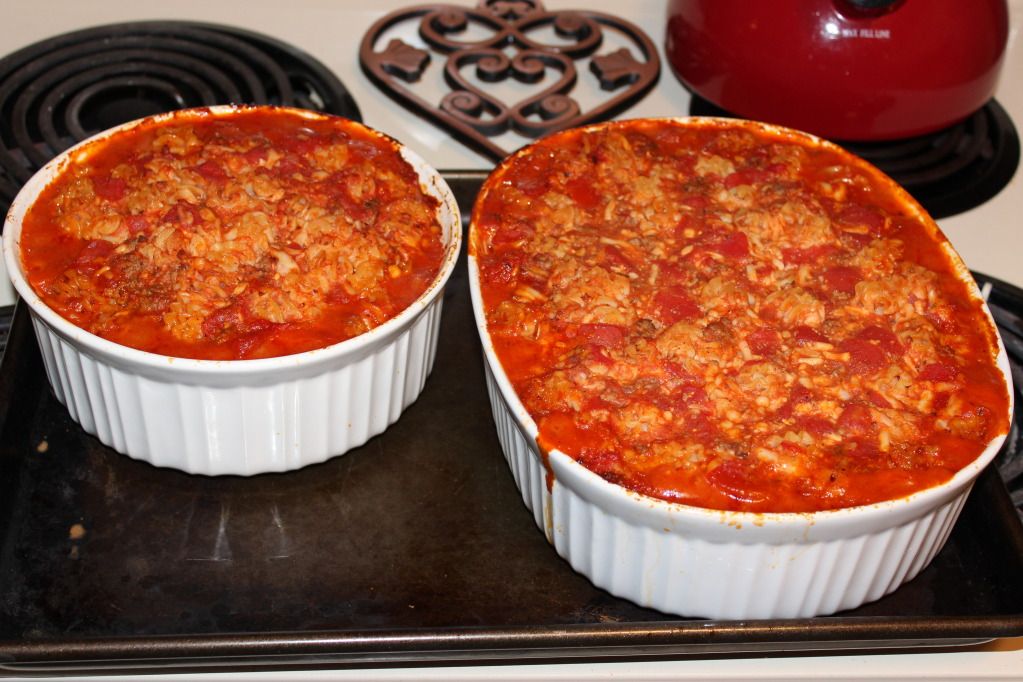 Now we made leftovers on purpose. Tyler and I are always in need of food for lunch and you can only eat so many lean pockets.
We separate the leftovers into microwave safe containers and freeze. This way we don't have to eat it
every
day... but we have options. Do you make meals in advance for work?