My friend, Ann brought over this dish as a side and I fell in love with it. I love love love it. When I asked her how long it took her to make it, she said she did it LAST SUMMER! Yes, she made corn and froze it so she could use it all year!
I married into a family who grew up on casseroles, baked goods, and farm-fresh meals. And I love everything about our meals together. So when I mentioned freezing corn, they all said they'd done it before too. I feel like I am way behind. I am here to make sure none of you feel out of the loop too!
You will need:
4 dozen ears of sweet corn
2 pints of half and half
4 sticks of butter
a pack of 40 quart-sized freezer bags
Now, I will warn you: THIS IS A PROCESS! So make sure you have a couple of hours to kill before you attempt this.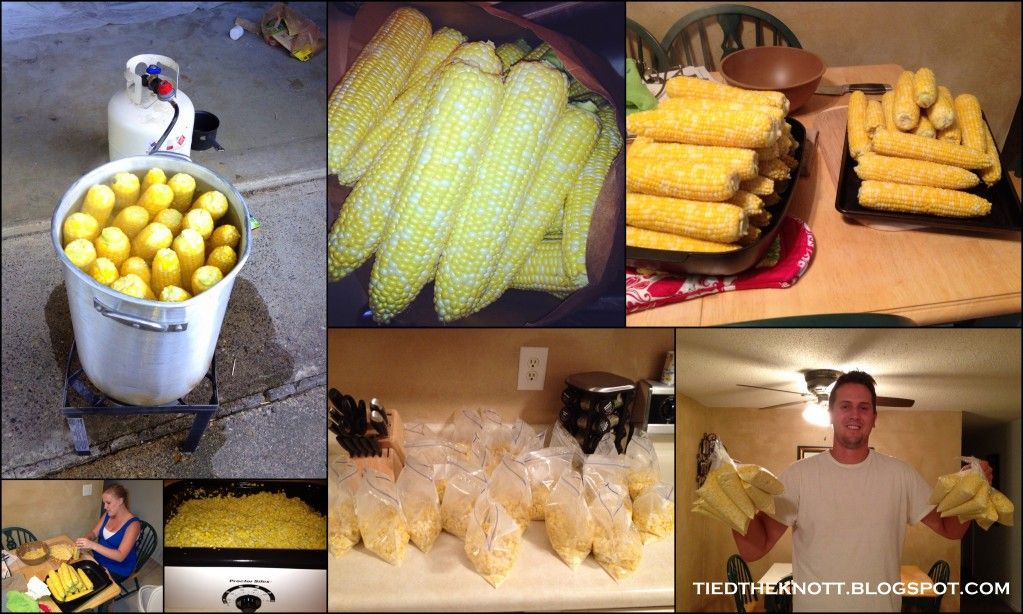 Shuck and de-hair all ears of corn. Bring a big pot of water to a boil, put corn into the boiling water (at which point the water will stop boiling). Bring back to a boil and
let
boil for 10 minutes or until corn pops when you bite into it.
Using a knife, take all corn off cobs. This part is M-E-S-S-Y.
Put half and half AND butter into roaster and dump corn on top. Cook at 325* for about 1 hour (no more than 1.5 hours).
Let cool and put into bags at at whatever serving size you like! Ours made 28 bags that my lovely husband took downstairs to freeze. Good man.
When you want to eat it, just take it out of the freezer, take out of bag and put it in a bowl. Microwave for 4 minutes or until it is hot.
YUM!
Off to another wedding... CONGRATS DARREN AND TRISH!!! Have an amazing weekend!!