Oh. My. Goodness.
Have you ever had an apple turnover? No? Well, neither had I until I made them. They are outstanding both fresh from the oven and just out of the fridge.
This lovely treat followed Chicken Wild Rice Soup and was accompanied by hot cider. God Bless great friends, sweatpants, movies, hot supper, and dessert.
This is Ann... I have talked about her before. She is due one month after us... almost to the day!
They aren't as easy as the oreo truffles or the pumpkin cupcakes I've made before... but they are GOOOOOOOOD.
I would estimate they took about 30 minutes to make 8. Not bad in my book.
I have been on a HUGE apple kick. The day I saw this recipe, I went and got 4 lbs of apples, a gallon of fresh cider, and some caramel dip for the leftover apples. Yum yum yum.
I got the recipe from one of the 10 million free magazines I have received in the last 6 months. I tried to cancel them... because I don't want to get some outrageous bill in the future back-paying for the issues they sent me as promotions... but they still keep coming! This recipe came from Family Circle (but I made a few modifications).
You will need:
2 medium apples peeled, cored, and diced (I used Honeycrisp as that's what was on sale... the recipe calls for Fuji)
1 tbsp flour
2 tbsp unsalted butter
2 tbsp sugar
1 tbsp lemon juice
1/8 tsp ground ginger
1 egg separated
1 package (two sheets) of puff pastry sheets (thawed). You can find these by the Cool Whip at the store.
1/4 cup powdered sugar
Makes 8 pieces.
Preheat oven to 400*
Mix apples with flour, sugar, ginger, lemon juice
Melt butter in a skillet over medium heat and toss in apple mixture. Cook for 4-5 minutes (stirring constantly) or until apples start to get tender.
Pour back into bowl and let cool. Then add egg yolk. Mix it in well.
Unfold pastry sheet and place on a lightly floured surface. Roll the dough out a bit with a rolling pin.
Using a knife, cut the sheet into 4 equal pieces.
Stir up the egg white a bit to ensure it separates. Then brush it onto each of the pieces of dough. It'll help maintain the seal.
Place about 3 heaping tbsp of the mixture onto the center of each of your squares. Fold sheet over to form a triangle and press down edges to seal.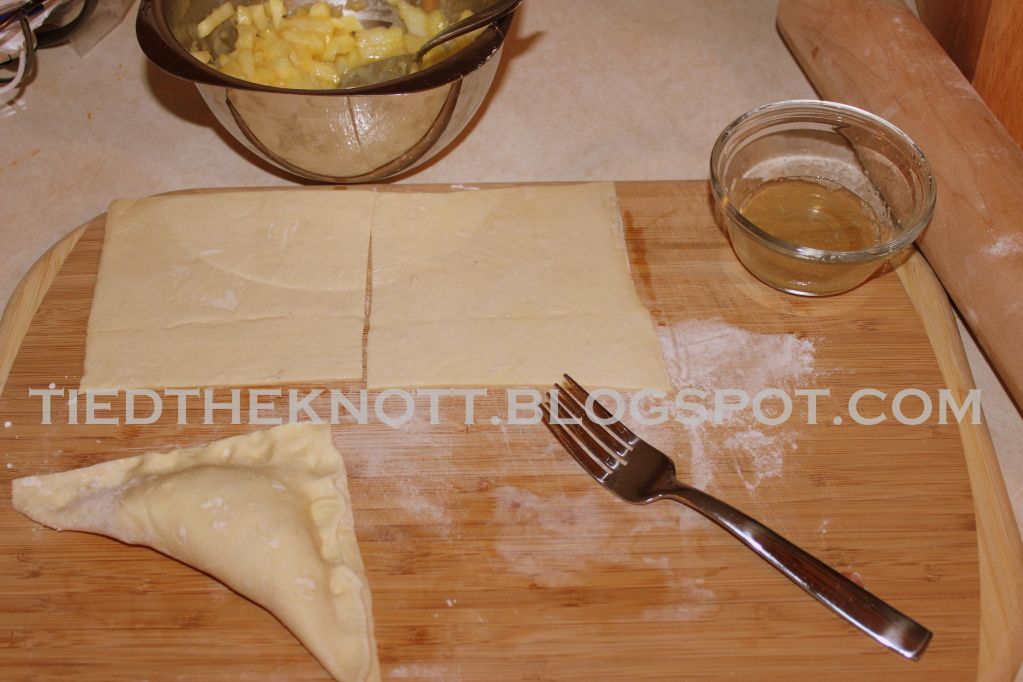 Put all triangles on a greased cookie sheet.
Bake for 15 minutes or until dough starts to turn brown.
Using a small mesh strainer (what we used) or pinching the powdered sugar in your fingers, sprinkle a bit on each of the turnovers.
Serve warm.
The magazine says they aren't good re-heated... but my husband LOVED them cold. Wouldn't recommend covering them though as they will get mooshy. I would recommend eating them within a few days of cooking though or they will stale without being covered.
ENJOY!!