Tyler was in the mood to eat s'mores but it was 40 degrees out. I saw it as a chance to improvise! Introducing: The S'mores Puff! I should've maybe taken better pictures, but all I had on me was my phone and poor lighting in my crappy kitchen. Bear with me.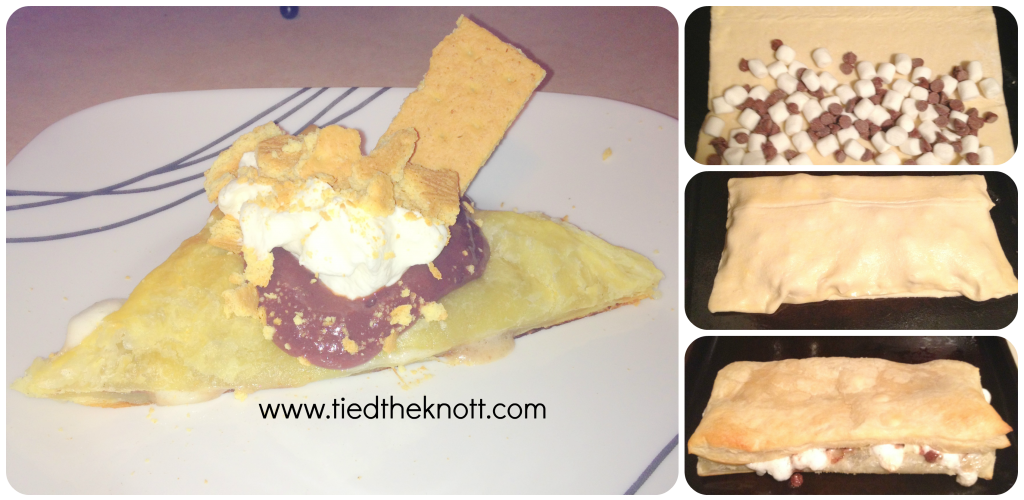 Here'
s
what you'll need for the
S
'
mores
Puff (makes 4 servings):
One sheet frozen puff pastry - thawed
1/2 cup milk chocolate chips
1 cup mini marshmallows
1 box of instant chocolate pudding (with 2 cups of milk, according to the package)
1 cup of cool whip
2 graham crackers smooshed
Preheat oven to 400*
When puff pastry is thawed, lay it out flat (unfolded) on a cookie sheet. On
half
, sprinkle the chocolate chips and marshmallows. Fold over so the chips and marshmallows are tucked inside. Bake for 11-12 minutes or until golden brown. WHILE IT'
S
BAKING, mix up pudding and stick in fridge to let stand.
Remove from oven and with a pizza cutter, cut in half, then into triangles.
Move a triangle to the serving plate and top with one spoonful pudding, one spoonful cool whip, and sprinkle graham crackers to finish.
Serve warm.
Let me know if you make it/how you like it!! :)