It's Food Friday again and I am so excited. I've never felt more TGIF-ish than I do today. I plan on a weekend full of windmill making, road-tripping, and wedding festivities for my cousin Mariah.
My friend Lindsay is the greatest person ever and will be helping me make windmills tonight. She doesn't know what she's getting herself into. She did send me a text though saying I'll pick up a new bottle [of wine] with a cute label. I judge wine by it's label. Obviously. To which I replied umm me too. Because they frown upon cracking one open to sample. Boo. I think we'll be just fine.
We're also heading to a wedding (where I will be rocking
PipLey Boutique
all week!!). Oh, I'm so excited!
To keep the excitement rolling, I have a delicious recipe for you!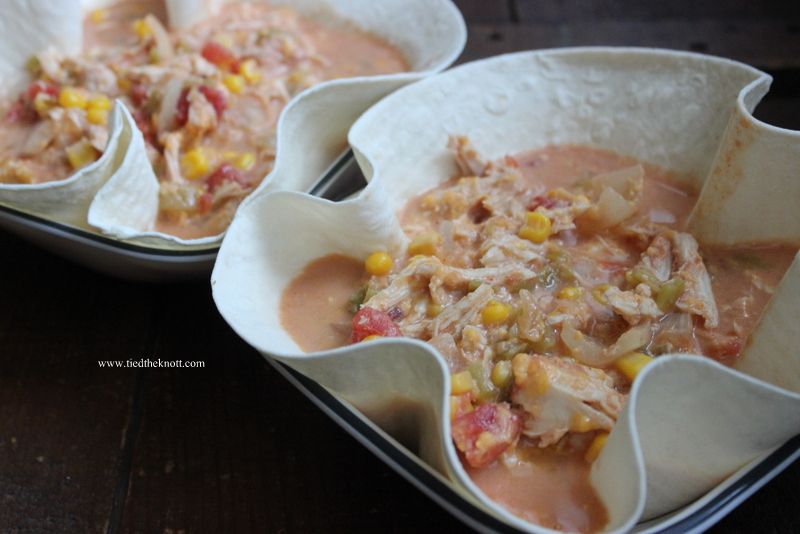 I call this one Green Chili Chicken. If you want to save it for later, click on the hovering PIN IT button right over the picture to pin the image and recipe. I promise it won't disappoint! You will need:
1bag frozen corn

1c sour cream

1c mild chunky salsa

1c water

4 large

chicken

breasts

1 can petite diced tomatoes

2 cans diced

green

chili

peppers

1 packet taco seasoning

2c shredded cheddar cheese

Soft shell taco shells
Mix corn, salsa, water, chicken, tomatoes, chili peppers, and taco seasoning in your crockpot.
Cook 4-5 hr on high

until

chicken

is cooked through. Using two forks, shred chicken

and return to crock for 30 minutes.
Add (stir in) sour cream & cheese. Set to low until melted.
Put your tortilla in the microwave for 10-12 seconds to make more
flexible
. Serve in a bowl lined with a soft tortilla. We tore the top of the tortilla and ate it like a taco, then ate the remainder like a soup. It was soooooo good.
Have a great weekend!