Let's start by saying that this is what I've packed so far. You see, we've never brought Kylie camping before. So next week I may have a
what you REALLY need for camping with an infant
post.
Don't forget to share the love and pin-it!
This is what we've packed. A list for the newbies, if you will. For our 4 day trip, we packed:
Pack and play - baby needs a place to sleep, right? Well Kylie HATED the pack and play when we first got it. We had a little case of Princess and the Pea and the little cootie didn't think it was comfy enough. We ended up at Amazon.com and found a reasonably priced (new, obviously... I have a thing about used mattresses... ick) pack and play mattress. Wrap that thing in a cozy blanket (TIGHTLY) and make sure there isn't any blanket the baby can get caught up in. Bam. Baby is comfortable and sleeps like a bear in hibernation in this thing.
Bottles and spare-paci - Don't think oh, I can get by with one or two. Remember that you may not have running water so you'll want to have enough to get you through a good part of the day or at least until you can find somewhere to wash them. Fortunately we have a restroom with running water a short ways from our site. We should only need 5 bottles and 3 pacifiers.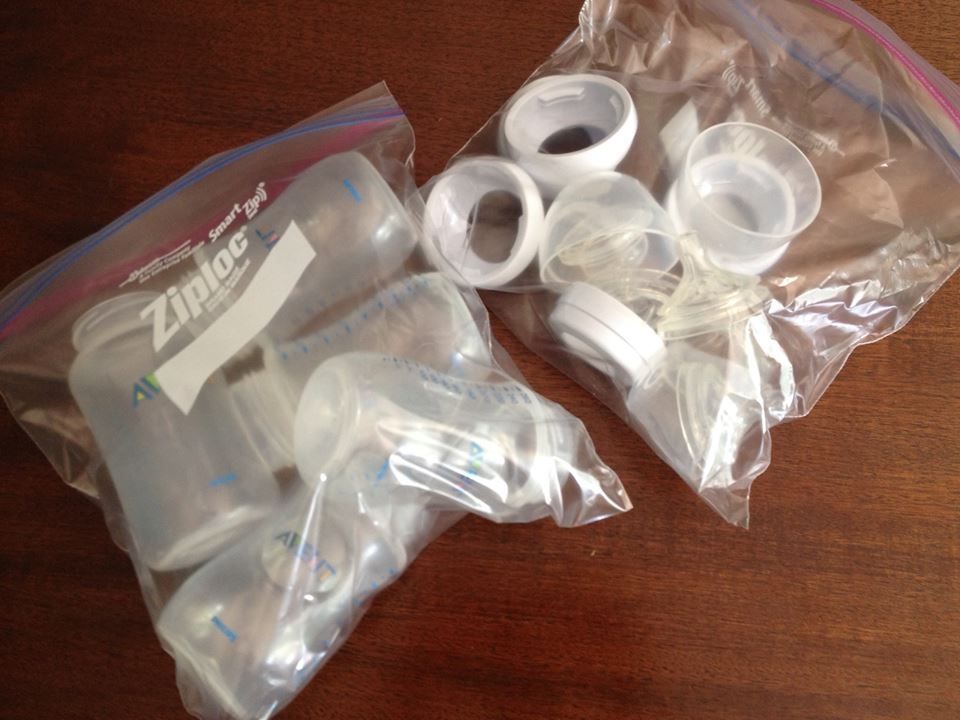 Weather-appropriate clothing. You guys - today's high is 84 degrees. Shorts weather, no? During our trip, the weather is going to be hi 69* lo 47*. We are bringing pants, shorts (just in case the sun tricks us), sweatshirts, winter coat, and a hat for our kiddo. Not only that, but we still don't let her sleep with blankets. Ever since I discovered a family member passed from SIDS many years ago, I have been a bed-time-Nazi. I am so worried about blankets and (I was worried about) rolling over that I lost lots of sleep over doing things the safe way. So instead of tossing blankets on KJ to keep her warm, I am bringing her socks, pants, and a long-sleeved onsie to wear under her fleece PJs. She'll be juuuust right. This weather thing is stressing this mama out!
Baby carrier - We plan to go hiking a couple of the days and while strollers are awesome, I don't think they'll be able to handle the terrain, so we're huffing it. KJ will have a cozy spot on my back. We're big fans of the ErgoBaby carrier because of how it gives baby the most natural hip placement when baby-wearing and I know this thing is going to be a lifesaver when we get to the trails.
Backpack - You may need water or snacks or a meal for you and/or baby on the hike. Bring a backpack. Don't forget to include diapers, wipes, and a change of clothes for the little nugget though. Those carriers hold snug to their little bums and can cause an impromptu blowout. Be warned. Also, let someone else carry the backpack. A baby and a pack might be a little much on one person.
A backpack-friendly changing mat - You're going to want something that makes changing baby easy. Get a mat that has a spot for diapers and wipes so you're not trying to find everything when the moment strikes for your child to stink up the wilderness. Be prepared!
Stroller - Even though we're bringing a carrier, I know we're going to need a stroller for when we stop for pie or something on the way to our camping site. A stroller is ideal for these occasions. A collapsible one is a super-bonus!
FOOD - Kylie is in an awkward stage where she loves to self-feed, but I also sometimes give her baby food to help compensate for all of the stuff that lands on her lap. I am in LOVE with pouches. They don't have to be warmed and can come with little screw-on spoons that make it easy to feed baby. I almost always make Kylie's food, but when refrigeration is unavailable, we don't hesitate to buy. We also got a variety of pick-up snacks so she'll always be plump and happy :) (We brought a lot more food than this... just so you're not concerned)
Travel/camping friendly toys - This means (if you want it right between the eyes) bring reasonably sized toys and make sure they aren't too loud and obnoxious to where you may tarnish the relationship between you and your neighbors who may be able to solve the issue of a missing ingredient so you don't have to drive 30 miles to the nearest gas station.
An amazing coffee mug - This isn't for coffee, friends. You know how sometimes when you're in a strange environment, baby might wake up in the middle of the night? Well, camping provides the strangest of environments and while it'd be nice to just stick a bottle in the microwave for 35 seconds to achieve the perfect temp, we don't really have that opportunity. Instead, spend the money on a nice coffee mug that keeps water hot for hours. I got this one at Caribou Coffee for $25 about 5 years ago, but I think Walmart is now selling them for around $10. This bad-boy keeps water at an undrinkable hot for hours. Sleep next to this, a bottle of cold water (to counter if it's too hot), and your formula separator and you're setting yourself up for a very quick midnight feeding.
A collapsible high-chair - I am and will eternally be a Joovy advocate (and no, they don't know, nor did they pay me to write this). This high-chair is easy to clean and folds up no bigger than a folding chair. This is IDEAL for travelling and I think you need one.
Of course you need all of the mommy essentials like a camera and whatnot, but those might just be covered next week when I tell you what we ACTUALLY used. Wish us luck, this could get interesting!