Have you ever heard of an egg bake? If not, you're totally missing out. It's easy and delicious. Simply the best breakfast to wake up to. Tip: PUT THIS IN THE FRIDGE OVERNIGHT AND JUST STICK IN THE OVEN IN THE MORNING. It really makes life so much easier. (And gets your tummy full faster!)
Here's what you'll need:
1 bag original Simply Potatoes (they're shredded)
Salt
Pepper
12 large eggs
1c milk
1 bag frozen broccoli
1lb bacon cut into 1" pieces and fried/drained OR browned sausage
2c cheddar cheese
2 tbsp softened butter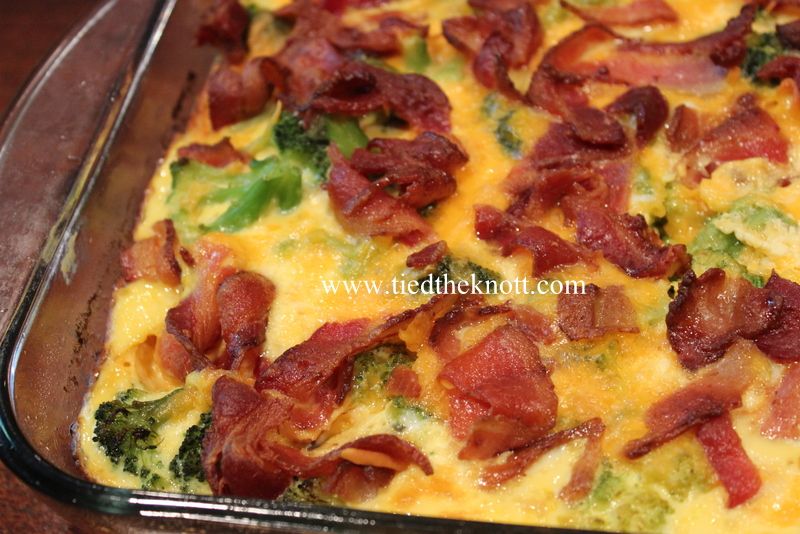 Make sure your bacon is fried BEFORE starting to assemble the egg bake.
In a large mixing bowl, pour in the potatoes, some salt, some pepper, and the butter. (When we tried this, the potatoes were a bit bland, so I am recommending this step to jazz them up a little.) When mixed well, spread into baking dish evenly.
Sprinkle cooled, drained, browned meat and frozen broccoli as well as the cheddar cheese so that the potatoes are covered.
In the same bowl where you mixed the potatoes, scramble the 12 eggs and the milk until the yolks are all broken. Pour this over the top of the rest of the ingredients, cover the dish with foil, and put in fridge till morning.
Wake up (duh), preheat oven to 350*, and take straight from fridge to oven leaving on the foil. Bake for about one hour, checking periodically to see if they are cooked through.
After about an hour (when sides are bubbling a bit), remove the foil and bake for 15 minutes more. When eggs are cooked through, breakfast is ready!
Happy weekend, everyone. Go do something fun!