Work hard, play hard. Right?
Remember when I said I haven't sacrificed taste for healthy? Well, I may have sacrificed healthy for taste here however it's a rarity and I still ran a 10k... so I am totally at peace with it. Not to mention these are thee best breakfast in the history of breakfasts and I made 8 dozen of them this past winter (not all for me). EVERYONE loves them. No joke.
I want to warn you that this recipe makes 4 dozen rolls so you may want to divide it up if you don't want that many. If you make them in advance of an event, freeze them so they don't go bad. Otherwise we keep them in the fridge until we eat them and when we do eat (devour) them, we warm them in the microwave for 40 seconds with a dab of butter on top. Oh. My. Yum.
This is a Betty Crocker

recipe

from the 80s I think and I've basically summarized it below. I may have lacked a little description though so if I did, ask and I'll provide tips. They're time consuming to make but totally worth it.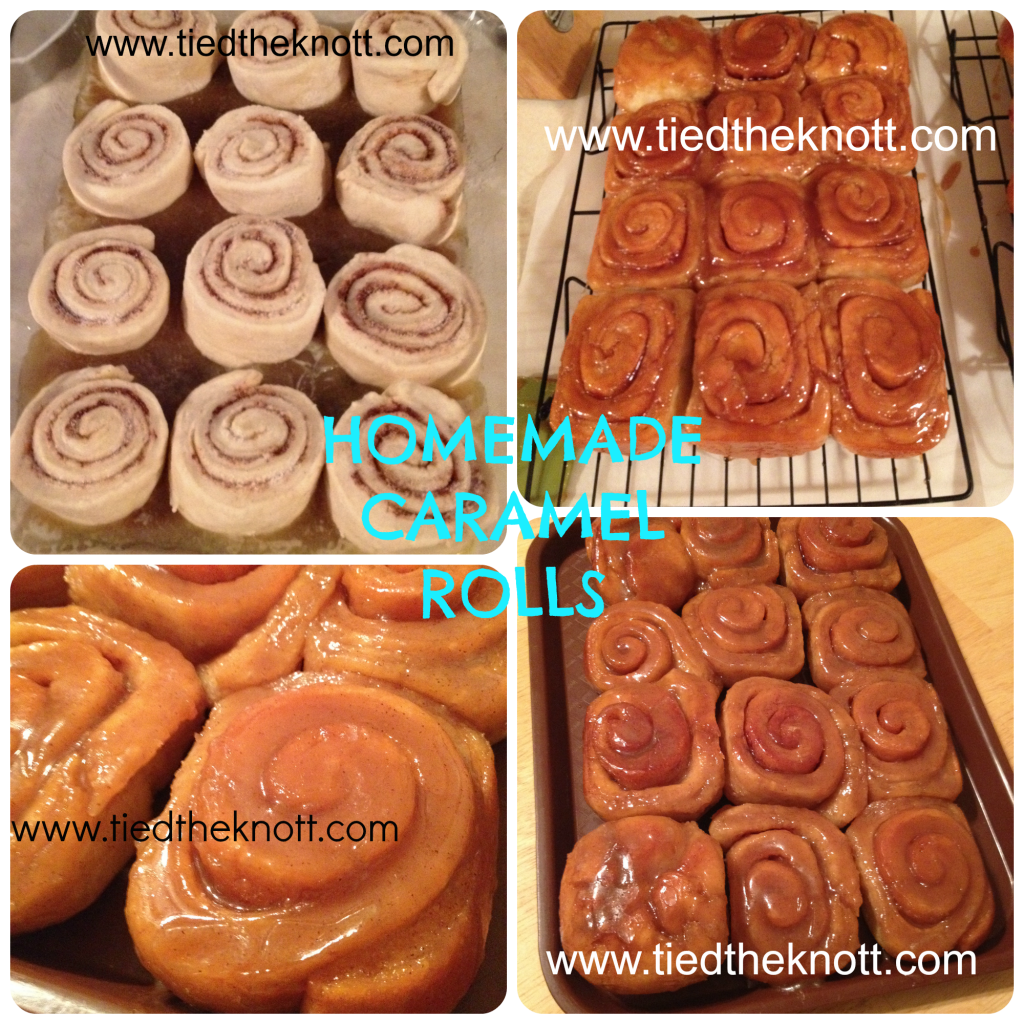 Caramel Rolls
Make 4 c lukewarm milk with Dry Milk

1 c white sugar

4 tsp salt

1 c soft shortening

4 pkg yeast dissolved in 1 c warm water and 1 tsp sugar

4 eggs slightly beaten

14 c or less of flour (try to get by with 13)

½ c light corn syrup

½ c brown sugar

½ c butter

2 tbsp butter

2 tsp cinnamon

½ c white sugar

½ cup melted butter

½ cup brown sugar

½ cup light corn syrup
Make warm milk and add 1 c (one stick) Crisco shortening.
When cool enough (so they don't cook), add eggs and beat.
Take the 4 packages of yeast and 1 tsp sugar and put in 1 cup of warm water. Let bubble. ** do not stir. If there are dry parts on the side of the bowl, jiggle or shake the mixture. Once the yeast has risen, add it to the milk mixture.
Add 14 c of flour and knead until mixed.
Place in a greased bowl. Let it rise until it doubles in size or you stick your fingers in it and the finger holes stay. Punch down, flip over and let rise again (until double)
*** While dough is rising, prepare

caramel

mixture in a 9"x13" baking dish (I like to use glass)
When doubled, slice the dough into 4 equal pieces
Sprinkle flour on your flat surface as well as the top of the dough and

roll

out into a 9" by 18" oblong.
Spread 2 tbsp butter over surface of dough and sprinkle with 2 tsp cinnamon and ½ cup sugar.
Roll

dough and pinch sides so they are not exposing any sugar or cinnamon.
Using thread, cut into 12 equal pieces and place on top of the

caramel

mixture. (I highly suggest using string to cut. I have a YouTube video demonstrating if you want to see it)
Bake the

rolls

at 375* for 20-25 minutes or until golden brown.
Using a knife, go around pan to loosen

rolls

and to prevent them from sticking to pan.
Turn onto waxed paper. Scrape out the remaining

caramel

and put on top of the outside

rolls

.
Let cool and put into a 2 gallon bag to freeze. When eating, thaw and eat room temp or microwave to warm.