In continuing with the #CleanItForward Campaign by Finish Power & Free Alliance of Moms (which is a
network that explores a new product line, Finish Power & Free, featuring less harsh chemical formulas, without sacrificing the power of Finish results – a win for even the tiniest members of your family! )
, today I want to talk food. I love food. I love food
more
when it is healthy and/or promotes a healthy lifestyle for my two main squeezes.
My personal view of snacking and food in general is this: I want to serve my family meals and snacks that are not only tasty, but a good source of nutrients and essentially
sustainable
. I want to keep these people in my life for as long as possible and all that's in my control is the food consumed. That being said, we snack healthily. I have a lot of healthy (and some not-so-healthy, but it's OK to indulge sometimes) recipes on my
Recipes
page if you want to meander over there for a peek. Some favorites include:
Green Chili Chicken
,
Granola Bar Muffins
,
Stuffed Peppers
,
PB-B Bites
, and a recipe I will share below: Wonton Dessert Cups. AMAZING and less than 150 calories for the whole recipe which makes FOUR dessert cups (I usually say two per person so boom. Dessert is 75 calories.)! They are delicious. That'll be below but first, I want to talk about
healthy snacking
.
I have been able to lose 50 lbs over the last few months (since November 4th, 2013 to be exact) and while it's been a challenge because it was mostly running and I used to HATE running (now I crave it), I attribute a lot of my success to the choices I've made in the food department. Specifically my diet. Tyler and I have never been the kind of people who strictly buy organic or locally grown items. Not that there's a problem with that, it's just not how we were raised thus not the path we are familiar with. I shop with coupons, plain and simple.
Just to prove it, here is my before and after which was when I was down about 45lbs. Some of you have seen it already but that is A-OK! I'm showing it again anyway. Portion. Control. Works.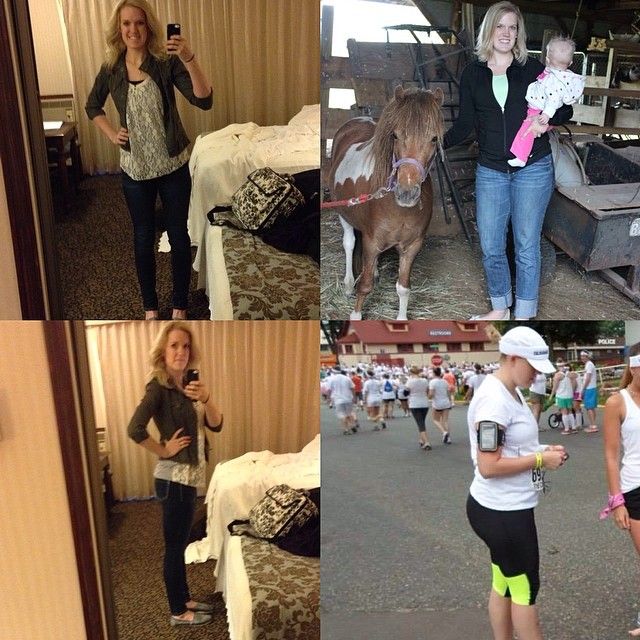 I refused to sacrifice any foods I liked being that I wanted a diet modification that was sustainable. Cutting out carbs? That would work for me for about a week. I love breads and pastas and I would absolutely gain all my lost weight
and then some
back in about 2.5 seconds if I decided to go that route. Not a productive diet for my lifestyle so instead I really began to focus on portion control. Now portion control is intimidating and a lot of people say they don't have the time to portion things out because quite frankly, it's just easier to eat snacks right from their original bag, but today I will share with you the EASIEST way to use portion control.
Step one: buy snack-sized bags or sandwich bags.
Step two: buy healthy yet tasty snacks (I suggest veggie straws or the reduced fat options for almost any cracker. Pretzles, puff chips, and some snack bars are also great.)
Step 3: take ten to twenty minutes
one night a month
and portion out a couple dozen snack bags.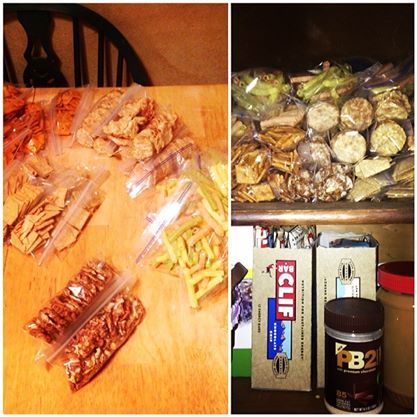 Now we take these snack bags everywhere. They're great for the snack cupboard, the diaper bag, and I even keep some in the center council of my car! Whenever Kylie asks for a "nack", I have one handy which eliminates a panicky, unhealthy, hasty purchase, saves a few dollars, and ensures Kylie never starves (never a risk anyway, but I fancy the dramatic).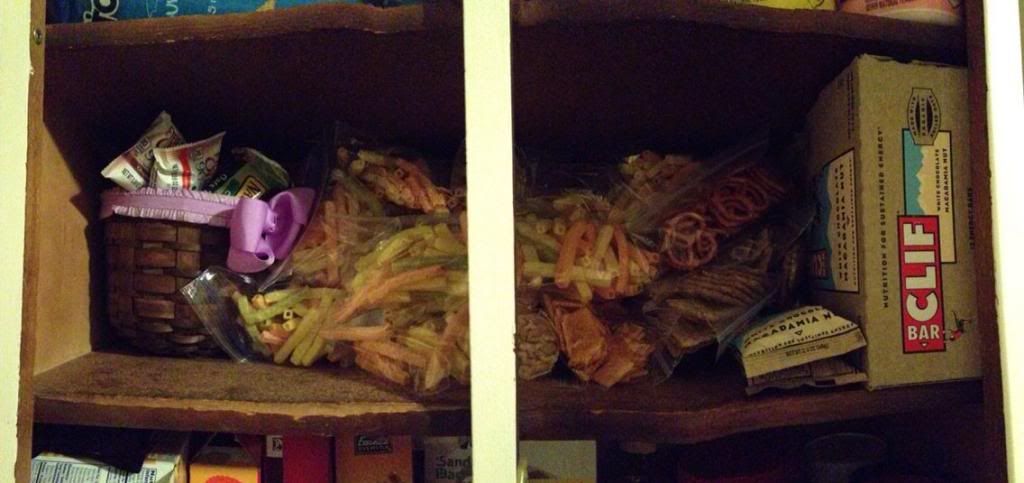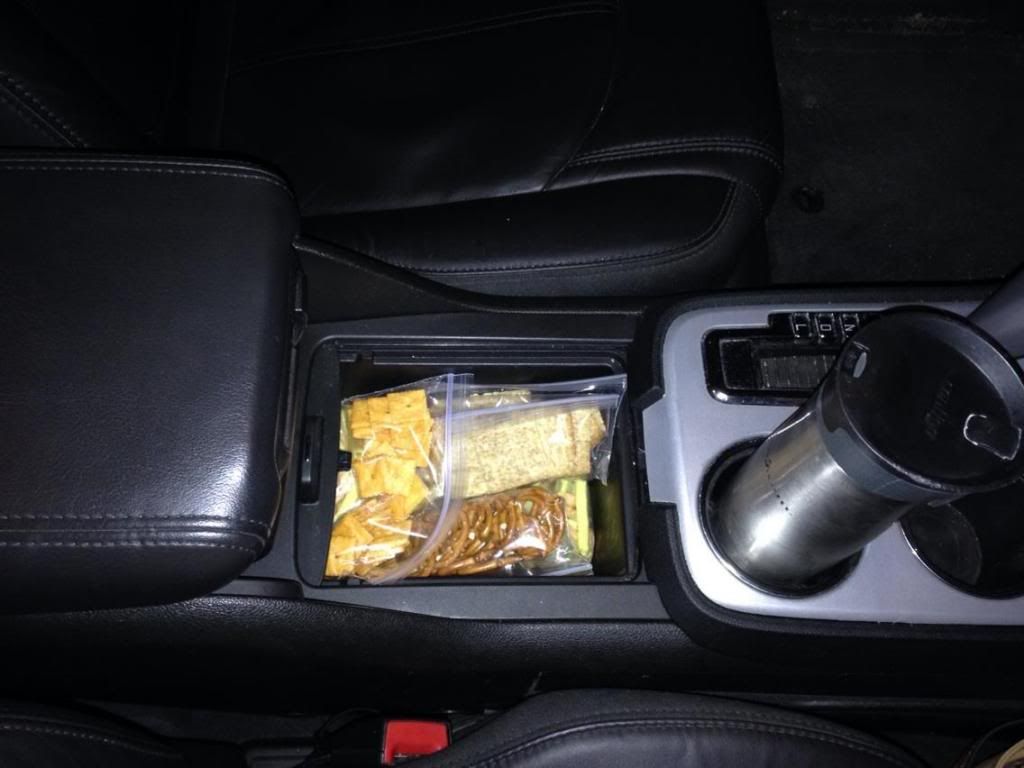 I do the same thing with meats. Cook a lot in advance, store in freezer bags in their appropriate portions, and freeze so you can have a quick, easy supper! (Great when cooked/grilled with a low/no sodium sprinkle like this Mrs.Dash Lemon Pepper.) By preparing the meat this way, you can cook (re-heat) the whole bag and
eat the whole bag
with absolutely no guilt because you
know
what's in it. Easy. Peasy.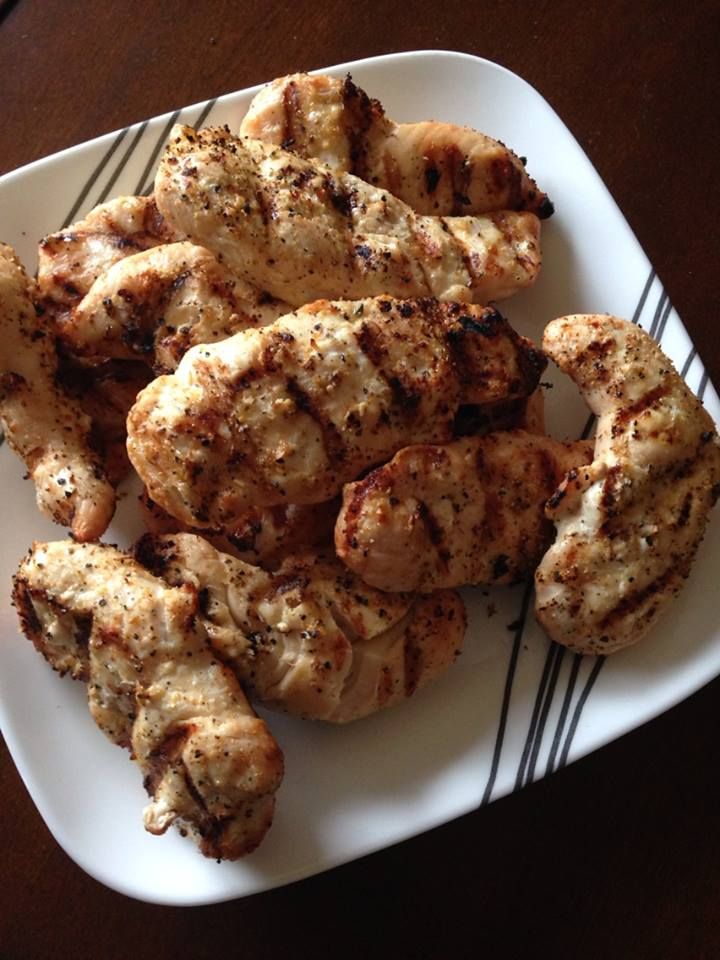 Finally, we do the same thing with our produce purchases. If the fruit and veggies are clean and readily portioned, they are much more likely to get selected than if they weren't cleaned and grab-able. Welcome to the almost-always-stuffed Knott fridge where we have fruit and veggie bowls at the ready. And we always have hard-boiled eggs peeled and in the fridge too. Kylie loves them and they are a GREAT source of protein. Not to mention an egg white is only 17 calories. WHAT?! Yes.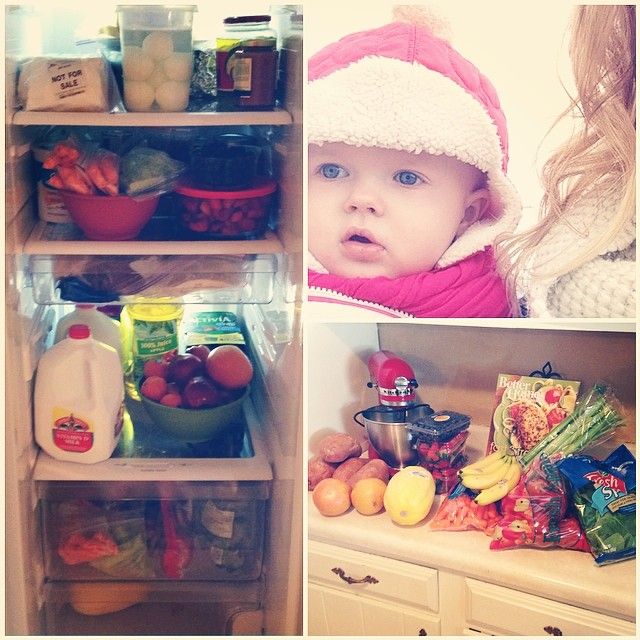 What do you and your family do to promote HEALTHY SNACKING in your home? I'm always looking for new and effective ways to keep the healthy snacks flowing!
Continuing on with my food rant, because I love food, Tyler and I love dessert. OK in the interest of full disclosure I love dessert, which forces my husband to tolerate it after almost every supper. I know... it's a big sacrifice he has to make for love. ;) In fact, I think I love eating dessert more that I love eating real food! My waistline doesn't share the affection. Kidding because these don't change your waistline. Indulge without OVERindulging.
Check out this crazy concoction I like to call Berry Cups. Or Wonton Dessert Cups. Or Dessert Cups. Name them what you want just make them and indulge (you can use almost any berry... but I stick to blackberry, raspberry, or blueberry).
This recipe makes 4 dessert cups (think 2 per person or 2 servings)
1/4 c fresh blackberries (15.5 calories)
10-12 (about 1/2 c) mini marshmallows (40 calories)
1 - 7" wonton/egg roll wrapper (93 calories)
Total: 148.5 calories (or 74.25 calories per serving)
Cut wonton wrapper in 4 equal parts. I folded mine and tore and it worked like a charm. Line 4 spots in mini muffin tin with wonton wrapper
Half each of the marshmallows with scissors.
Mash blackberries (I tossed them in a baggie and smooshed them up, cut the bottom corner of the bag, and piped them in... use the easiest method for you!!) and spoon into the bottom of the wrapper. Sprinkle with marshmallows.
Bake for 10 minutes or until marshmallows are almost gone/browned and tips of wrapper are golden brown.
If your cups are a little tart, don't hesitate to add a sprinkle of powdered sugar (1 tsp = 10 calories).
So good and not so bad.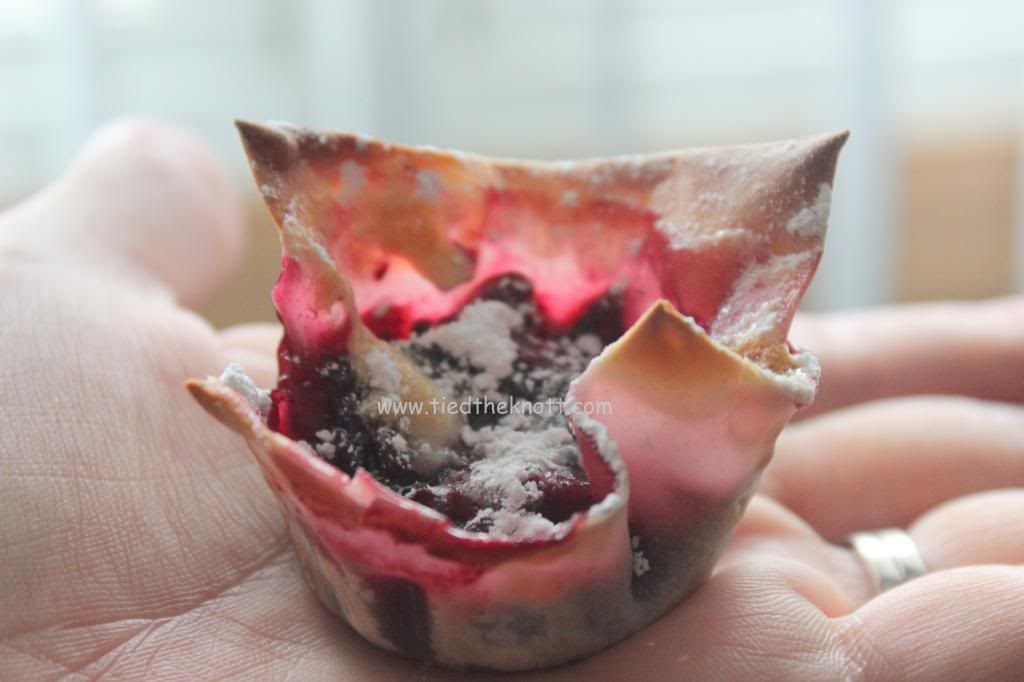 Now I have other means of keeping my family as healthy as possible as well again, doing everything (in my control) to increase their longevity. Another thing I have done, and I've mentioned this before, is I have switched to Finish® Quantum. It has been months now since I've switched to Finish® Quantum and it was such a SIMPLE transition. In fact I rarely think about it anymore as all I do is grab a tablet and toss it into the dishwasher! That easily I can control (and limit) the harsh chemicals I am using to keep my dishes AND Kylie's NUKs and sippy cups clean. That's right - Finish® Quantum is mild enough to use on NUKs and bottles!!! I like to say that I try to keep my kitchen a germ-free zone and Finish® Quantum has been an integral part in that.
You can help put Finish Power & Free to the #FinishMoms test! Share the news of a "less harsh chemical formulas" dishwashing product and help us #CleanItForward!!
Learn more about the Finish brand from my
previous Alliance of Moms post
!!
disclosure: i received product and payment in exchange for my open and honest opinions/review of Finish Quantum products. These opinions were not swayed in any way, but simply reflect my experience with the product.